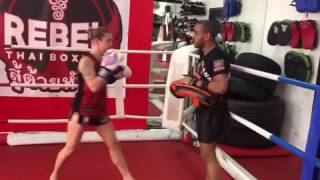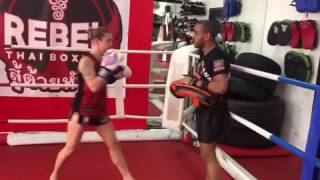 Theme of The Week for Rebel Thaiboxing!
Good evening Rebel Thaiboxers! Coach Eddie here with the theme of the week. This week we have been covering the Long Knee. The Long Knee is one of the most devastating strikes in Muay Thai, MMA and Kickboxing. This technique is performed by driving your knee straight through into your opponents mid section. Here us Coaches Jess and Andrew demonstrating the long knee with both legs. #martialarts #eastmeadow #rebelthaiboxing #thaiboxing #muaythai #fitness #kickboxing #thailand
Rebel Thaiboxing Fight Team News!
Good Evening Everyone: Our fighters scored 2 wins and a loss this past Friday night. Both Rod Williams and Quinn fought at Grand Thaiboxing Stadium in Hua Hin Thailand Friday night. Quinn was first to fight and faced an opponent with far more experience. But it was no match for Quinn's kicking ability and skills in the clinch as he scored a Unanimous Decision win! Rod make quick work of his opponent in the first round when he cut his opponent with a barrage of elbows. His opp