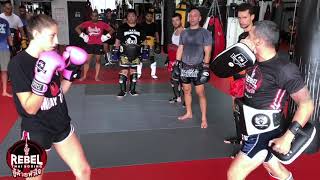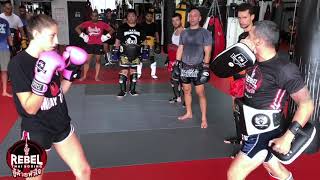 New "Technique of The Week" #2 on YouTube
Whats up everyone, Coach Eddie here with our second installment of our weekly video series "Technique of The Week". In this weeks video we go over the current theme which was "Fakes & Feints". Here we demonstrate how to effectively fake a switch kick. Believe it or not your motion and swinging of your hands is one aspect that many practitioners overlook. I've watched fighters and coaches try and explain this correctly on several occasions but the execution just wasnt there. O
New Video Series: "Technique of the Week" Subscribe to our YouTube Channel!
We are very happy to announce our new video series "Technique of the Week" where we will be following the Rebel Thaiboxing curriculum. This program was created by our Co-founder/Head Coach Eddie Cuello. It follows in detail exactly what our students are learning at the gym week by week. This week we are wrapping up our "Teens" aka Push-kick technique. If you couldn't make it to the gym its ok, make sure to follow us by hitting that subscribe button on our Youtube channel here
We've Been Nominated Again!
Hello Everyone! We are very happy to announce that both of our Rebel Thaiboxing locations have been nominated for "Best of Long Island" in the martial arts category! Voting is now open so please take a few seconds and vote for both of our gyms! http://queenscourier.secondstreetapp.com/l/BEST-OF-LI-2019/Ballot/SportsampActivites #thaiboxing #centereach #smithtown #rebelthaiboxing #suffolk #nassaucounty #bestoflongisland #eastmeadow #longisland #martialarts #kickboxing